If you've been following me for a while now, you know that we purchased a 1996 Fleetwood Prowler on a seasonal site on a lake not to far from our home last June. It came complete with ALL the original finishes - right down to a couch from and 90's. There was also TONS of dirt and junk. When I say tons I mean TONS. We filled a whole enclosed trailer with the junk furniture (2 futons, a couch, and three mattresses), random household garbage, and the carpeting we had ripped up.
Most of last camping season we spent just cleaning and painting. We also gutted the bathroom towards the end of the season. The bathroom has been a headache - but that's a conversation for another day. This season, we are going to be putting the finishing touches on lots of the projects we started last year. The first project that will be completed is the Kitchen.  
Here's a somewhat before photo of our kitchen:
We didn't really take many actual before photos of the camper (the second photo is actually a screenshot of a video I took after we did most of the cleaning). The walls behind the sink had a floral wallpaper border on them which was AWFUL to take down. This border was throughout the whole camper and took forever to take off no matter what method I tried. The countertops were just a speckled gray color. 
Here's a photo of the kitchen after we painted: 
I sanded down the cabinets and painted them with a few coats of Glidden Speed Wall. I plan to do one final coat of paint after all the construction is done in the camper. Since it is such a tight space, we've scratched a few places on the cabinets moving things in and out. I also replaced the hardware on all of the cabinets in the camper. The hardware was gold. We ended up going with satin nickel cabinet hardware. I checked the website of the store we got the hardware from and I couldn't seem to find it online. They are somewhat similar to these drawer pulls: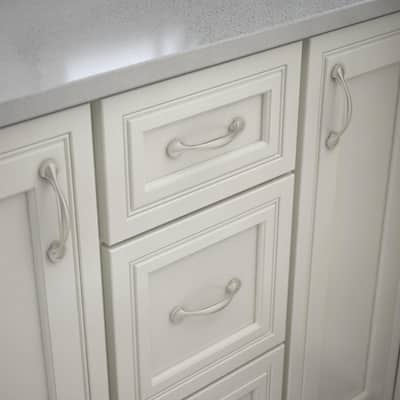 These drawer pulls can be found here. Part of me wishes I had gone with black hardware for the drawers BUT it's too late now. 
The next thing we did was change up the countertops using marble contact paper from Amazon. Lots of other places carry this as well and it was an easy and inexpensive fix for our camper kitchen. It has held up okay, but you can definitely tell which pieces we put in last year vs this year. I also placed this on the countertop of the built in unit our TV is on. I definitely would NOT recommend this for any high traffic areas as I don't think it would hold up well. 
The next step was our backsplash. This took me a little bit to figure out what would work for us. I had started with the peel and stick tiles BUT they're expensive and since the wall was uneven in spots, they didn't stick well. I ultimately decided to go with this peel and stick wallpaper.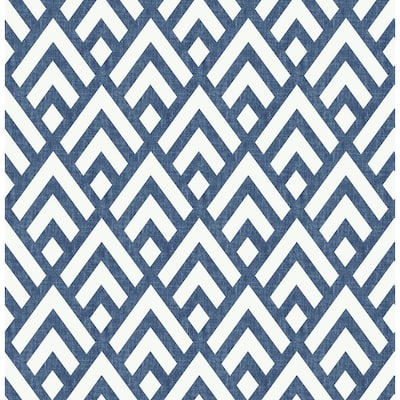 This color blue ties in perfectly with the bedding we selected for the camper. This was fairly easy to put down. I used a smoother and utility knife to place it on the wall without any air bubbles. We still have to put the trim back on where the countertop meets the wall. Once this is done, I'll add some more close up photos of the wallpaper and countertop. 
Here is a photo of the Kitchen now:
Stay tuned to see the before and after of our next Camper project!